Product Description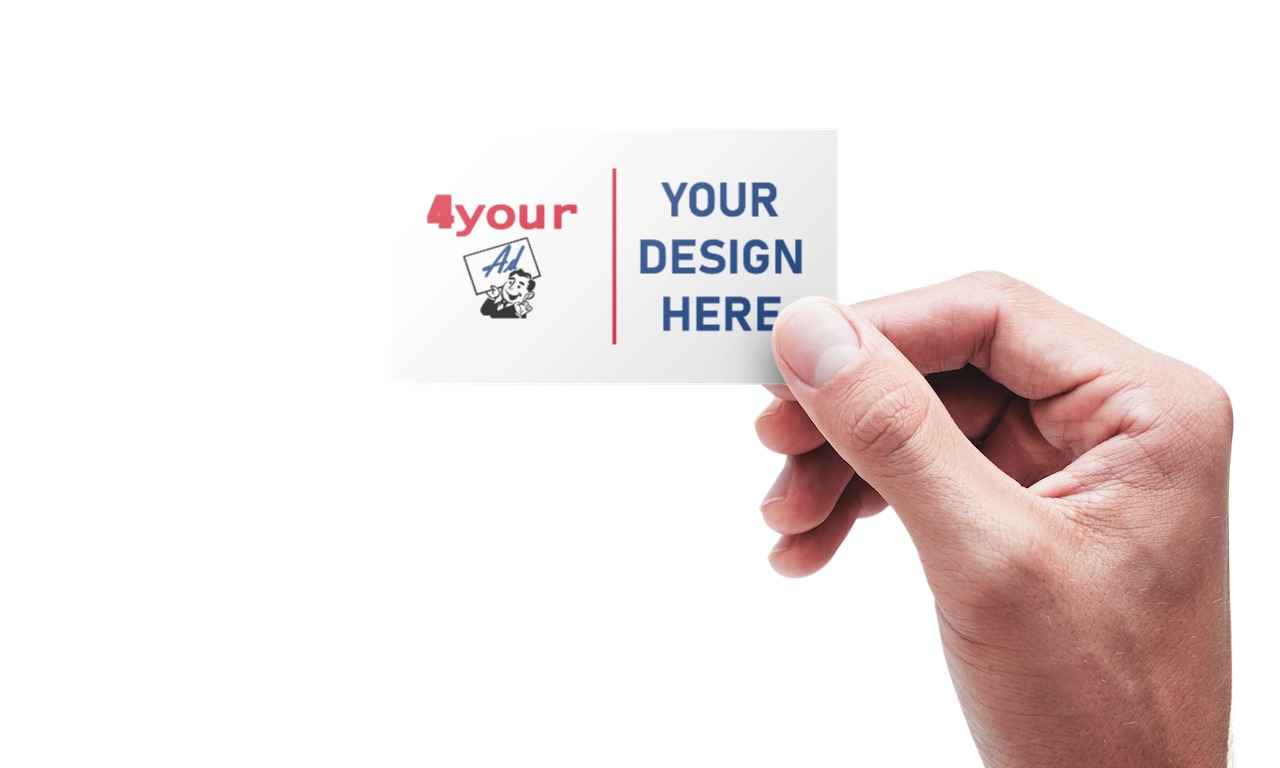 Description
Business Cards offer a practical and standardized solution for sharing contact information. They come in a convenient size that allows for easy distribution and storage. Although there is a general similarity in the information presented on Business Cards, it is the choice of font, style, substrate, and imagery that truly distinguishes one card from another, making a lasting impression that is unique to each individual or business.
If you find yourself needing to order Business Cards with the same design but different names or contact details, you can take advantage of the Versions section within the pricing calculator. This feature streamlines the ordering process by enabling you to customize the cards for multiple individuals in a single order. For instance, let's say you want to order the same design for four different people. In the Versions section, you can simply input the number "4" to indicate the quantity of variations needed. Once you have made your selection and proceed to place the order, you will have the option to upload four separate files, each containing the specific information for the respective individuals. These four versions can be consolidated into a single PDF, reducing the need for multiple proofs and simplifying the overall production process.
By utilizing this efficient ordering system, you can streamline the creation and customization of your Business Cards, ensuring that each card accurately represents the intended recipient while maintaining a consistent design. Whether you need to cater to a diverse team within your organization or personalize the cards for different professional purposes, the Versions feature offers a seamless solution that saves you time and effort.
Furthermore, the ability to incorporate multiple variations into a single PDF not only enhances convenience but also ensures coherence and consistency across the entire set of Business Cards. This means that you only need to review and approve a single proof, eliminating the need for multiple rounds of proofing and reducing the chance of errors or discrepancies.
By simplifying the ordering process and allowing for personalized customization, the Versions feature empowers you to create a cohesive set of Business Cards that accurately represent your brand and make a memorable impact on those who receive them. It enables you to effortlessly manage and differentiate between different individuals or departments within your organization while maintaining a cohesive visual identity.
Recommendations
When it comes to ordering Business Cards, there are several recommendations to consider. The most commonly chosen options include selecting a size of 3.5″ x 2″ and opting for 14 Pt. Gloss Cover stock. It is worth noting that Business Cards are often printed in full color on both sides (4/4) and coated with UV on both sides, giving them a polished and professional look.
If you require lower quantities or prefer additional stock choices, we encourage you to explore our 4-Color Digital Business Cards. These cards offer flexibility in terms of quantity and a range of stock options to suit your specific needs.
For those interested in smaller-sized Business Cards, we have the perfect solution for you. Our 4-Color Offset Business Cards – mini are designed to make a big impact despite their compact size. These cards are ideal if you want to stand out and leave a lasting impression while conserving space.
If your order calls for 1 or 2 color printing, including the use of Pantone colors for accurate color matching, we recommend checking out our 1 & 2 Color Business Cards. These cards provide a more subtle yet sophisticated aesthetic, allowing you to customize the color scheme to align with your brand or personal preferences.
In addition to traditional paper-based Business Cards, we also offer alternative options for those looking for something unique and innovative. If you're interested in plastic Business Cards that offer durability and a modern appeal, we invite you to explore our Digital Plastic Business Cards. Likewise, if you want to make a magnetic impact that stands out from the crowd, our Digital Magnets are an excellent choice. These unconventional Business Cards are sure to leave a memorable impression on recipients.
By providing an array of options, we strive to cater to the diverse needs and preferences of our customers. We believe that each individual or business has unique requirements, and our aim is to offer a wide selection of Business Cards that can be customized to meet those specific needs.
Marketing Tips
When it comes to marketing tips, Business Cards hold a rich tradition as a time-honored method for people to exchange contact information while leaving a lasting visual impression on the recipient. Due to their compact size, Business Cards can be easily carried with you at all times, ensuring that you never miss an opportunity to establish a valuable new connection. To maximize the potential of your Business Cards, you might consider going the extra mile by incorporating a coupon or an enticing promotion on the back of your card. This clever strategy can effectively transform your new contact into a loyal customer, fostering long-term business relationships.
Even in this increasingly digital age, Business Cards continue to occupy a vital position in the world of marketing. Despite the widespread use of smartphones and digital contact lists, Business Cards remain relevant by offering multiple avenues for sharing information. Recipients can manually input the details from the Business Card into their contact lists, scan the card using a digital device, or conveniently digitize the information directly from a QR Code embedded on the card. Thus, the enduring importance of Business Cards remains steadfast, adapting to the evolving digital landscape while preserving their intrinsic value as a tangible networking tool.
Furthermore, Business Cards have found their place as an effective marketing medium beyond individual exchanges. They are frequently strategically placed in public locations as part of targeted marketing campaigns. By leaving Business Cards in accessible areas, businesses can widen their reach and engage potential customers who stumble upon these cards. This innovative approach amplifies brand visibility and creates opportunities for new connections to be forged in unexpected places.
To conclude, despite the rise of digital communication, the significance of Business Cards endures. They enable seamless information exchange, facilitate personal connections, and serve as physical reminders of networking opportunities. By capitalizing on their size and design, incorporating promotions, and leveraging their presence in public spaces, Business Cards continue to assert their value in the realm of marketing, proving their resilience in an ever-evolving digital landscape.
Vendor Information
Address:

4.20 rating from 5 reviews